Wanderlust calls you beyond the typical, and the Pipamoka will help you get there. Designed by fellow travelers, it's the easiest way to enjoy a full cup ofcoffee wherever your journey takes you.
Engineeredto brew a consistently clean, full-flavored cup of joe in about two minutes, the Pipamoka's vacuum pressure brewing method sets it apart from other devices.
 TRAVEL MINIMALLY
All of the Pipamoka's parts fit securely inside the mug, helping you pack more efficiently for any trip.
ENJOY A FULL FLAVORED CUP
Pressure-brew a full cup of coffee with the Pipamoka, the first all-in-one portable coffee maker to use vacuum pressure fora quick extraction.
YOUR COFFEE, YOUR JOURNEY
Bring your favorite coffee grounds with youso you're always ready to refuel with your preferred brew.
TASTE THE DIFFERENCE
The short pressure brew time allow you toextract a full-flavored cup with balanced acidity.
DRINK AT YOUR OWN PACE
The stainless steel vacuum insulated Pipamoka mug keeps your coffee hot for hours.
LEAVE NO WASTE BEHIND
The stainless steel micro-filter isre-useable, meaning there is no excess waste created from having to useone-time-use paper filters.
READY FOR ANY CHALLENGE
Elegantly designed from sturdy, yet lightweight, materials; the Pipamoka will be your reliable travel coffee makerfor many years to come.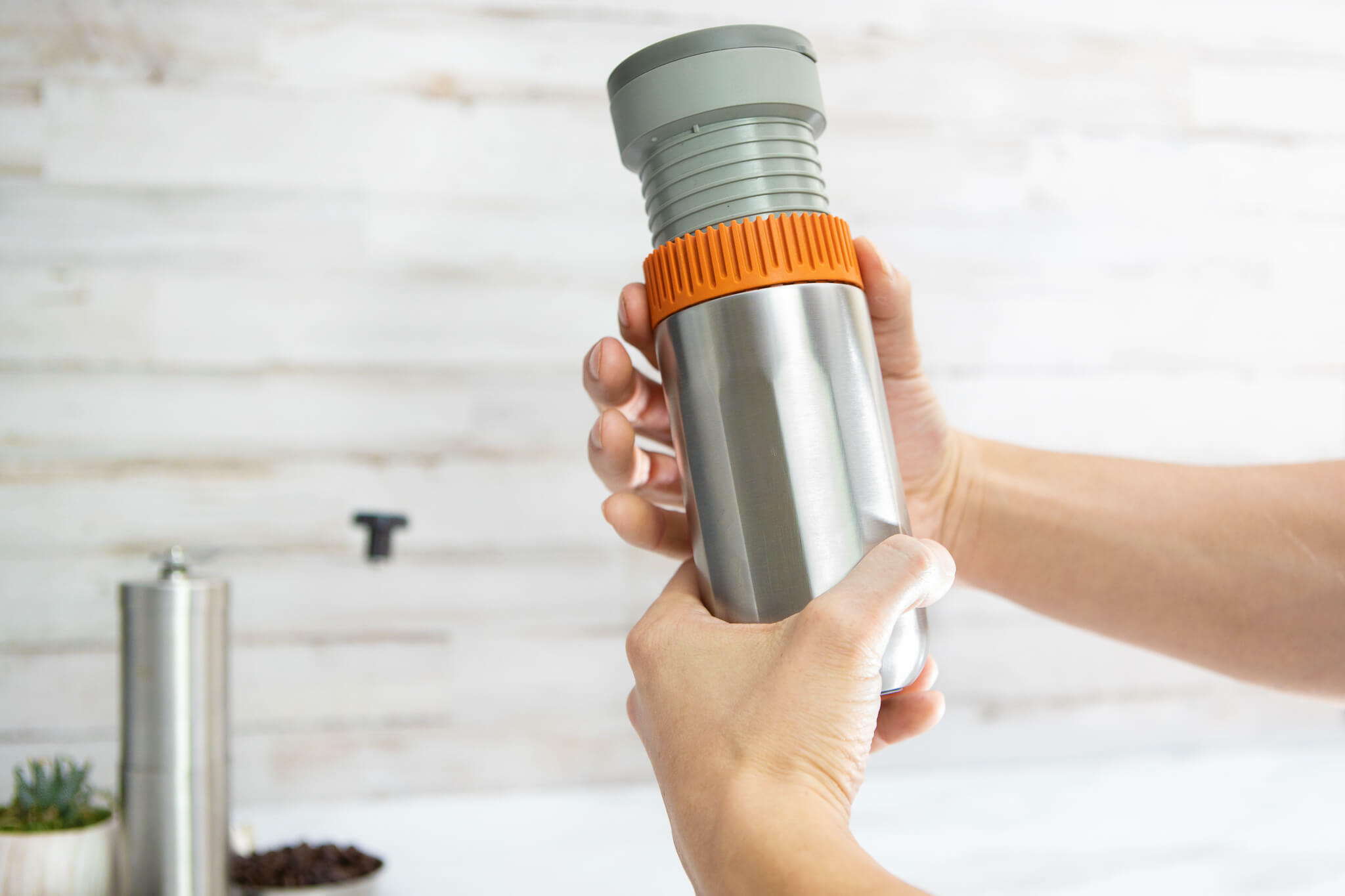 COFFEE WITH A TWIST
Whether you like it black, with milk and sugar, on ice or with extra frothed milk, Pipamoka gives you the perfect brewfor making your favorite coffee drinks.
INSTRUCTIONS
Fill the water chamber and drop the coffee basket into it. Let it sink to the bottom. Turn the ring to create vacuum pressure that draws the water down through the grounds. When the water chamberhas fully risen, remove the brewer, add the lid and enjoy a hot coffee for hours.
 PIPAMOKA CHARACTERISTICS
Dimension: Ø2.85" x 7.16" (Ø73 mm x 182 mm)

Weight: 0.94 lb (425g)

Mugcapacity: 10 fl oz (

300mL)

Brewsup to: 8 fl oz (240 mL)

Groundcapacity: 3.25 tsp (16 g)

Package includes: Pipamoka with 10 fl oz(300mL), 

isothermal stainless steel mug, funnel, 

scoop, brush, multi-languages 

instruction book, warranty card, one

 sticker and a carrying bag.
THISPACKAGE DOES NOT INCLUDE THEPROTECTIVE CASE.